OPENING RECEPTION: PORTRAIT ON THE FLY & SEE SOUND
May 8, 2019 @ 8:00 pm

-

May 11, 2019 @ 8:00 pm

Free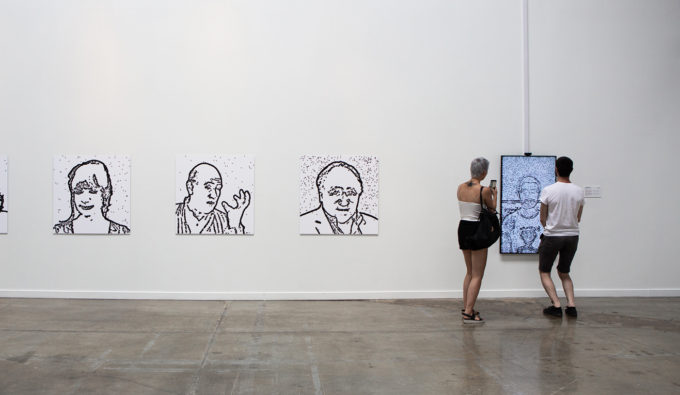 As part of Live Ideas 2019, AI: Are You Brave Enough for the Brave New World, the Ford Foundation Live Gallery hosts two interactive installations, Portrait on the Fly and See Sound through June 9th. Free and open to the public, an opening reception will be held on Wednesday, May 8th at 8 PM. Each evening of the festival at 8 PM, a guest singer/vocalist will perform a 10 minute set animating See Sound to create unique 3D sound sculptures. Read more about the two installations below:
Portrait on the Fly (2015): An Interactive Installation by Christa Sommerer & Laurent Mignonneau
The interactive installation consists of a monitor that shows a swarm of thousands of flies. When a person positions oneself in front of the monitor, the insects build up the contour of the person's figure. They begin to arrange and rearrange themselves continuously, creating a recognizable likeness to the individual. Portrait on the Fly is a commentary on our love for making pictures of ourselves (Selfie-Culture) and has to do with change, transience and impermanence.
See Sound (2017), Rama Allen and creative team at The Mill
See Sound is a generative artwork experience that creates sound sculptures based on the human voice. Each user has access to a microphone and hardware interface. They trigger different visual behaviors within the music visualizer based on experimentation, which results in each user leaving with their own bespoke sound sculpture.  The resulting media can be sent to each user immediately afterwards.